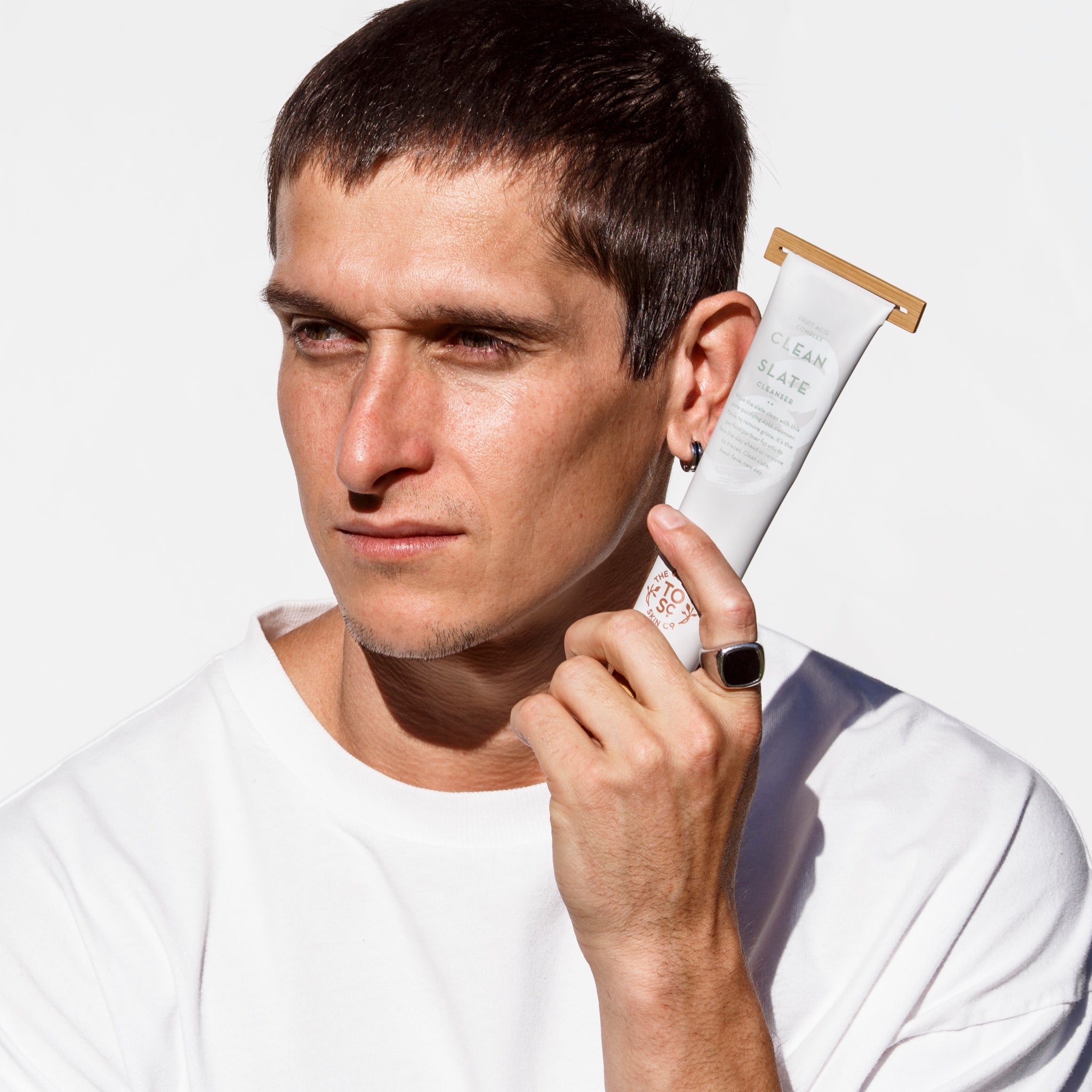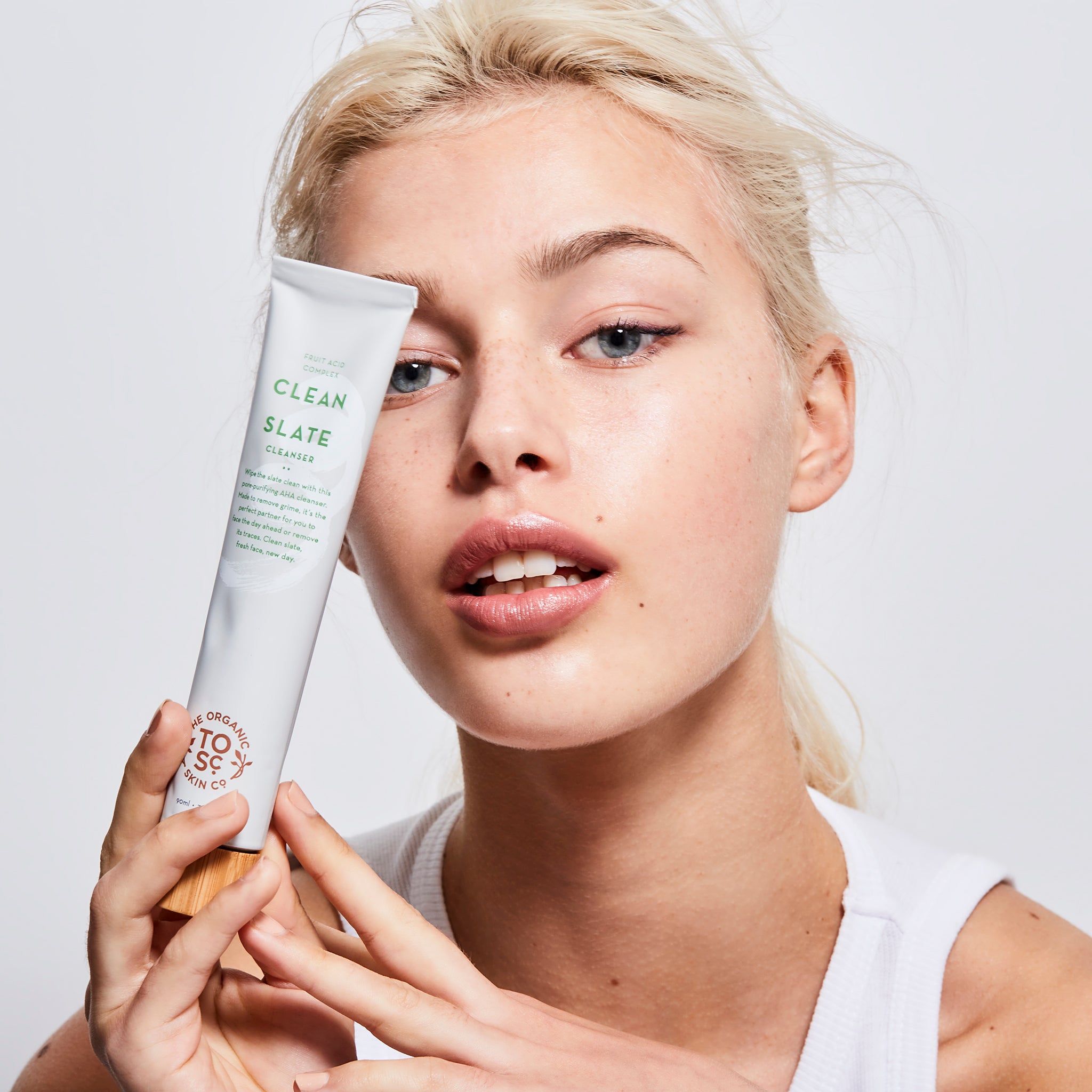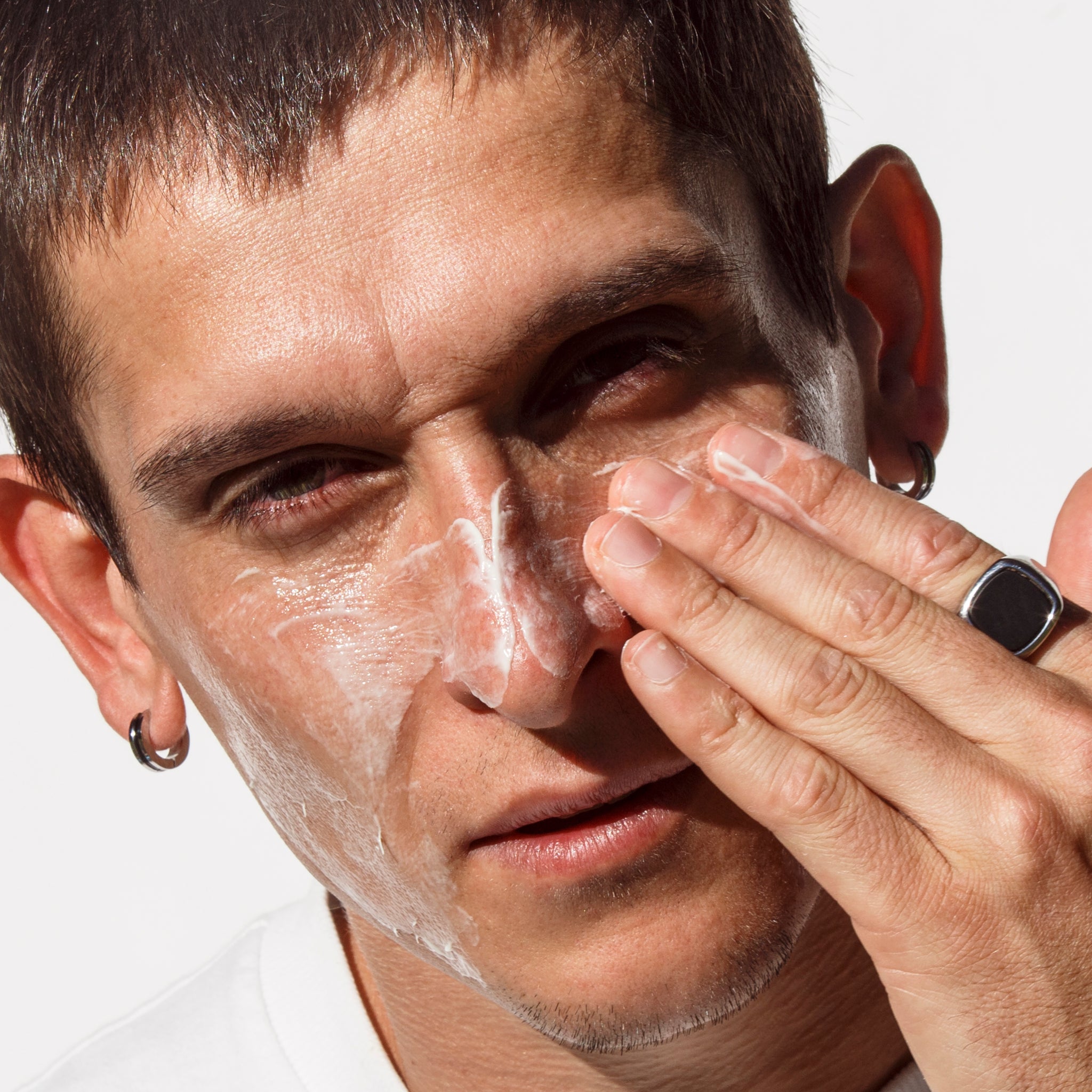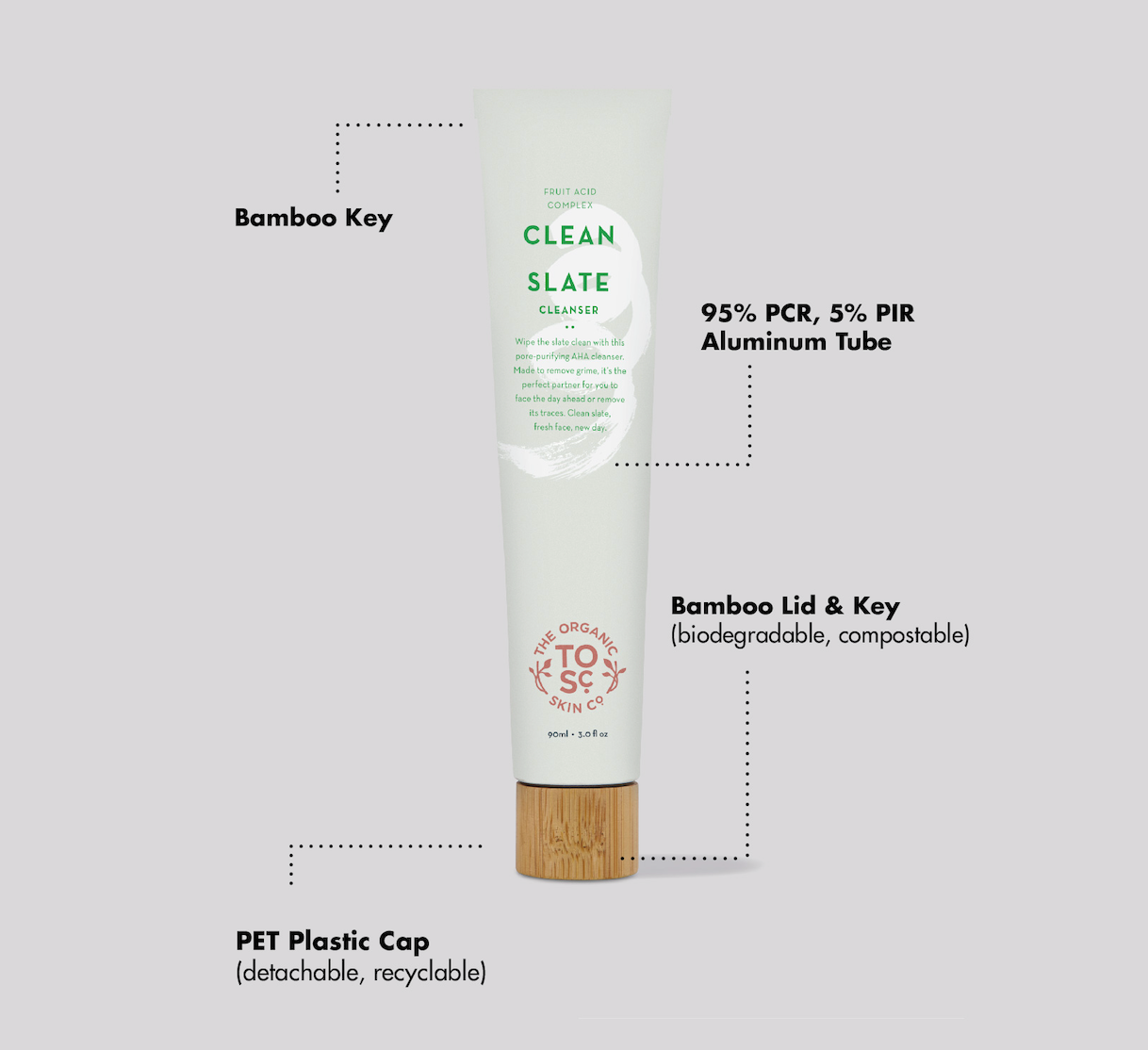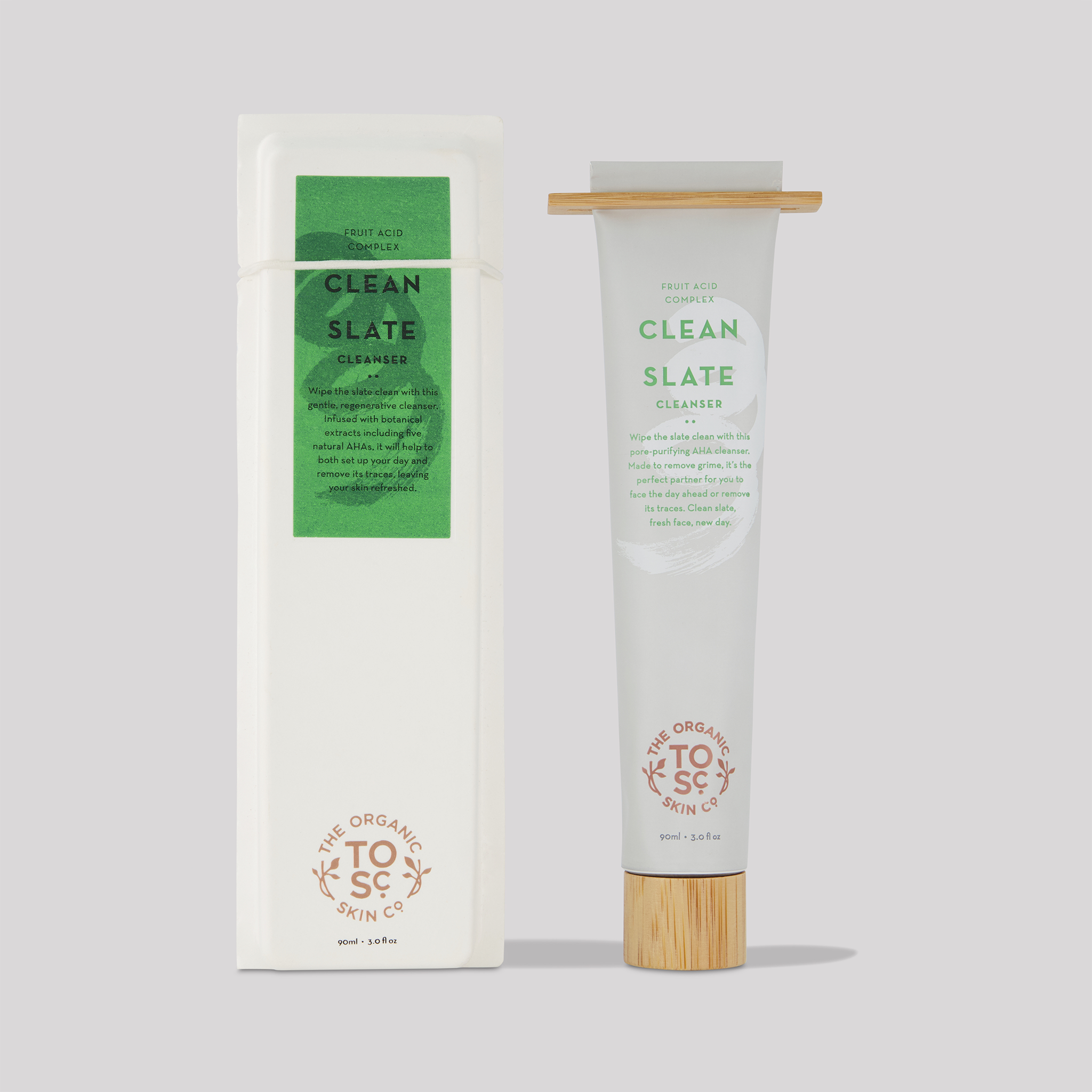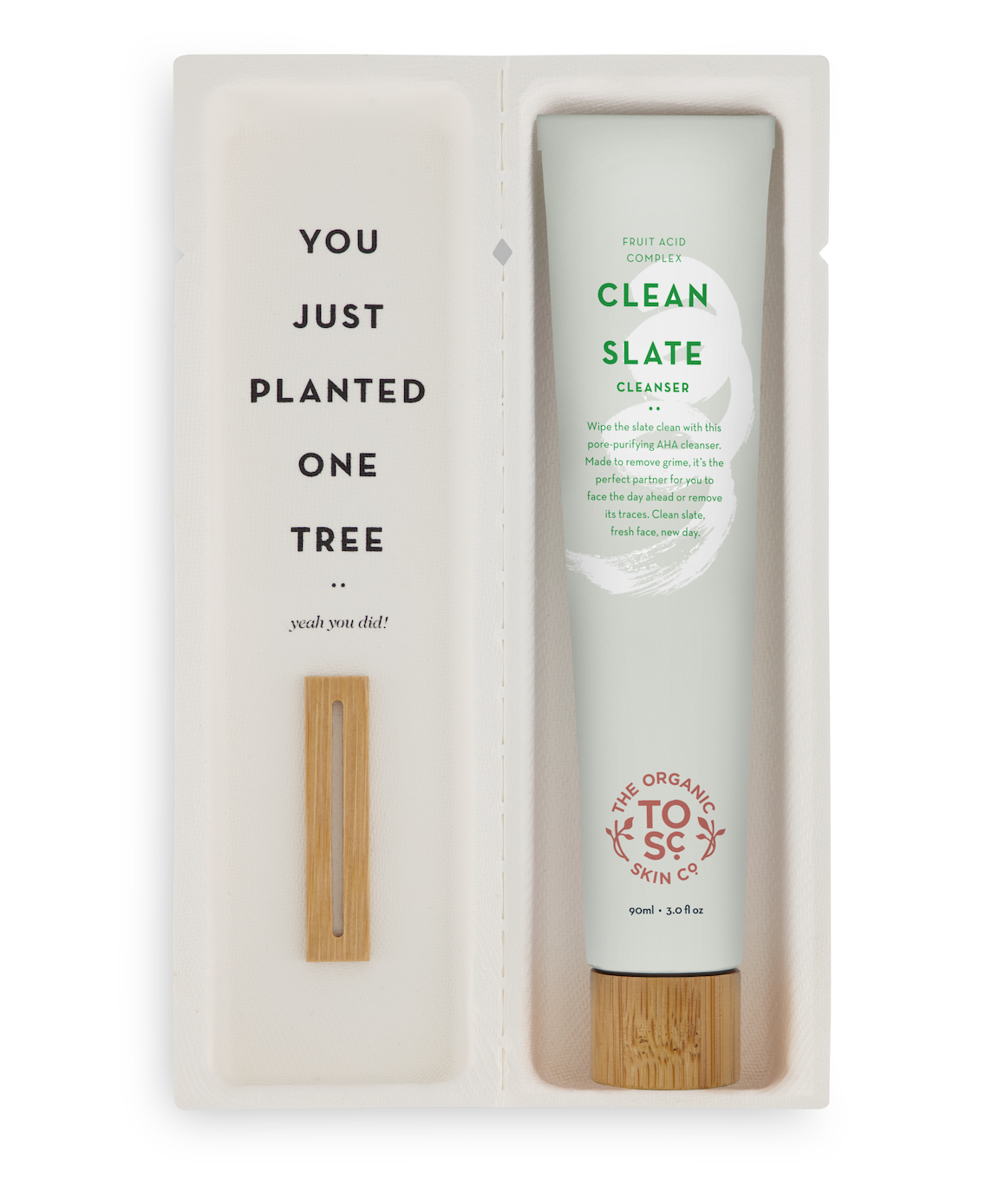 Fuit Acid Complex Cleanser
Description
You can wipe the slate clean with our gentle, regenerative, natural AHA face cleanser! Formulated to both set up your day and remove its traces, Clean Slate is infused with antioxidants and five natural AHAs to help brighten your complexion, boost collagen, unclog pores, and protect the skin against environmental toxins. New dawn. New day. Clean slate.
Product Details
Skin Type: For all skin types.
Look and Feel: Coconut white, citrus spritz.
Scent: Sweet orange peel, amla citrus berry.
Character: Renovator.
Inspiration: "Life is not measured by the number of breaths you take, but by the moments that take your breath away." ― Maya Angelou
How to Use
Dampen your skin and gently massage the cleanser into the face for 30-60 seconds, cleaning away grime and makeup and leaving your skin as fresh as newly cut grass. Rinse and pat dry.
Multi-Benefits:
Revolutionary science
Made with supercritical CO2 extraction technology | Purer, more whole, and more concentrated than conventional extracts, CO2 extracts are straight out wonderful for your skin!
Effective, gentle, natural exfoliant and AHA cleanser
Formulated with five AHAs to help gently exfoliate the skin and remove dead skin cells | helps minimize pores and leave skin fresh and revitalized | sugar cane extract, vaccinium myrtillus fruit/leaf extract, orange fruit extract, lemon fruit extract, sugar maple extract, neem.
Natural antioxidants to guard against environmental stressors
Infused with natural antioxidants to help protect the skin against external elements | rich in high-grade vitamin C | helps keep the skin calm and in balance | amla berry CO2, honeysuckle CO2, pomegranate CO2, neem CO2, sweet orange oil, jojoba seed oil.
Hydrating and soothing
Gentle acting | doesn't strip the skin, leaving it dry and/or stressed | nurtures and hydrates | aloe vera, shea nut butter, sunflower seed oil, jojoba seed oil.
Great for the planet as well as your skin
Next gen sustainable packaging | compostable eco-pulp box, 100% recycled and recyclable aluminum tube, biodegradable bamboo lid.
Sustainable Packaging:
Compostable, Molded, Eco-Pulp Packaging
Made from wholly natural, easily collected materials | compostable within 90 days
100% Recycled and Recyclable Aluminum Tube
Made from aluminum diverted from the waste cycle | small carbon footprint | protects and preserves contents from light, air and temperature fluctuations.
Eco-Friendly Bamboo Cap and Tube Key
Bamboo is a fast-growing, easily renewable natural resource.
Recyclable PET Plastic Vad Enclosure
Recyclable PET plastic | supports circular sustainability.
Sustainability Tip #6
Bling it on! If you're into your jewellery, seek out and opt for recycled materials when you can, like recycled sterling silver.
Ingredients:
Key Ingredients
Amla CO2: Balances and calms; a premium source of vitamin C.
Neem CO2: Replenishing; helps smooth fine lines and minimize pores.
Pomegranate CO2: Antioxidant; helps promote skin elasticity.
Honeysuckle CO2: Age-managing; rich in vitamins and minerals.
Rosemary CO2: Helps smooth fine lines and slow signs of aging.
5 AHAs: Exfoliating; help freshen the skin and leave it radiant.
Full Ingredients List
Aloe barbadensis (aloe vera) leaf juice*, vegetable glycerin*, caprylic/capric triglyceride, glyceryl stearate citrate, cetearyl alcohol, cocoglucoside, simmondsia chinensis (jojoba) seed oil*, butyrospermum parkii (shea) butter*, citrus aurantium dulcis (sweet orange) oil, xanthan gum, water and vaccinium myrtillus fruit / leaf extract and saccharum officinarum (sugar cane) extract and citrus aurantium dulcis (orange) fruit extract and citrus limon (lemon) fruit extract and acer saccharum (sugar maple) extract, phyllanthus emblica (amla) berry extract*†, melia azadirachta (neem) leaf extract*†, punica granatum (pomegranate) seed extract*†, lonicera japonica (honeysuckle) flower extract†, (and) aqua (and) lonicera caprifolium (honeysuckle) flower extract†, potassium sorbate, helianthus annuus (sunflower) seed oil, rosmarinus officinalis (rosemary) extract†, citral, limonene.
* Organic Ingredient
† CO2 Supercritical Extract
78.68% Organic Ingredients